Overview
Sputtering Components, Inc. (SCI) designs and manufactures sputter magnetron equipment used for physical vapor deposition of thin films.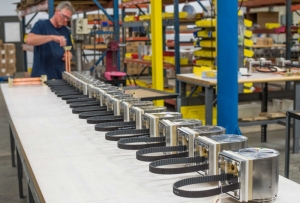 We have more than 5000 rotary sputtering cathode (cylindrical magnetron) systems in operation at leading companies around the globe.
Our partners are in industries that include architectural and industrial glass, solar technology, display and web coating, functional and decorative coating, electronics and semiconductors and inline or roll-to-roll (R2R) flexible packaging.
Our products include external-mount end blocks, internal-mount end blocks, magnetics and e-cathodeTM lid systems.
Founded in Owatonna, MN USA in 2001, Sputtering Components is a member of the Bühler Group. Sales, manufacturing, service and technical support continue to be based at the corporate headquarters in Owatonna.
We are a member of the Society of Vacuum Coaters (SVC) and the Association of International Metallizers, Coaters and Laminators (AIMCAL). Sputtering Components is also represented on the SVC Foundation board of directors.
Why choose Sputtering Components?
From design to manufacturing, to service and R&D, Sputtering Components has the equipment and the experience to ensure you have the best and most reliable tools for your PVD process.
Design
SCI offers a variety of styles with common parts and specifications and can design for custom configurations as well.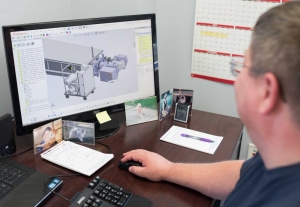 Our designs are robust for a long operating life with minimal maintenance and lower cost of ownership. Mechanical parts are designed for long-term operation by reducing the stress concentrations to safe levels.
Dual lip water and vacuum seals ensure end block system reliability. End blocks work with non-proprietary targets, offering the user more flexibility. Magnet bar sputter angle is adjustable. Our patented contact plate power transfer eliminates the need for brushes, which wear out over time. All designs are field serviceable.
Our sputtering magnetics are modeled in a 3D FEA program to maximize utilization and uniformity while reducing the dead bands at the end of the targets.
SCI engineers use SolidWorks for 3D modeling to ensure optimal fit. Models can be shared with the customer and integrated into machine drawings.
We use advanced software to model magnetic fields and low pressure gas flow and water flow dynamics. Gas manifolds modeled are optimized using molecular and transition flow analysis software.
Manufacturing
SCI has the most modern machining equipment that uses the latest technology. By manufacturing in-house, we have direct control over our quality and our schedule. Our manufacturing operation uses high-precision CNC machining centers. Our capabilities include turning parts from 0.1 inch up to 30 inches diameter and milling parts from 0.1 inch up to 60 inches. All equipment is regularly maintained and calibrated to ensure 100% repeatability and accuracy.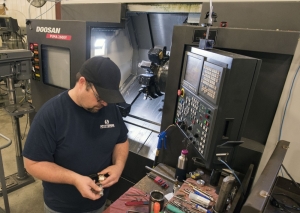 All lid systems are programmed by trained personnel and fully tested prior to shipping. Components are cleaned and assembled following a detailed job packet to ensure each order is built according to the customer requirements. Final assemblies are bagged and packed to ensure they arrive safely at the customer site.
Quality
SCI's quality control department is in a climate-controlled environment. We employ a coordinate measuring machine (CMM), which allows exact measurement of manufactured parts to accuracies of 0.0003 inches.
Both mechanical parts and magnetics are quality checked at the time of production.
SCI's quality program complies with the ISO-9001 standard.
Service and Support
Our staff walks with the customer through every step of the process to ensure a quality product that meets their needs. We provide service and support worldwide through our in-house service technicians and our conveniently located sales and service representatives. Click here to find a representative near you or contact our service department at SCIService@sputteringcomponents.com.
Testing/Research and Development
Sputtering Components has a dedicated R&D team. Using our in-house test chamber, we can perform quick-turn prototyping and test customized results. Customers can evaluate their process in SCI's test system to verify key parameters such as deposition rate, process stability and film properties.
Mission and Vision
SCI Mission
To maintain worldwide leadership by impressing our customers with:
Experienced and responsive employees who are eager to partner and build sincere relationships with them
Exceeding their expectations in providing quotes, models and drawings of customized solutions geared toward low cost of ownership
Delivering accurate, reliable and cost effective equipment solutions faster than any competitor
Expeditiously addressing their questions, support and service issues before and after a sale
Continuously improving products that innovate and retain our company as number one in our industry and in their sight
SCI Vision
To provide our worldwide customer base with a full range of sputtering components designed to reduce their cost of operations through innovation.