Joel Fiebiger is new Customer Support Coordinator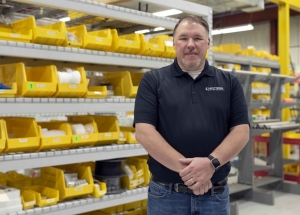 While Joel Fiebiger has recently stepped into the role of Customer Support Coordinator, he is not new to Sputtering Components.

As assembly specialist, he has been with the company since 2013.

"He brings much experience to this new position and carries a broad background in customer support," said plant manager Kory Klecker.

In his new role, Fiebiger will ensure customer orders are completed as required, provide updates to customers on order status, resolve service issues, and arrange service trips and startup services and training at customer sites.

Fiebiger is a native of Waseca, Minnesota, just down the road from SCI in Owatonna. In his spare time, he enjoys spending time with his wife and four children and doing volunteer work in the community, including as a "storm spotter," where he monitors severe weather.