Ken Nauman is SCI Director of Global Business Development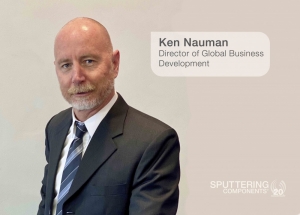 Sputtering Components recently welcomed Ken Nauman as its Director of Global Business Development.
In this role, he will guide the direction of Sputtering Components with respect to Applications, Markets, and Technology.
"Ken brings to SCI a wealth of knowledge," said General Manager Andy Britt. "He has a reputation for excellent problem-solving skills, a strong work ethic and a positive team approach."
Mr. Nauman, who holds Master's Degrees in Engineering and Business from Colorado State University, has 25 years' of experience in vacuum deposition industries and technologies. His previous work experience includes roles at industry leaders such as Advanced Energy, Applied Films (AMAT), Veeco and, most recently, Von Ardenne.
Mr. Nauman lives with his family in Colorado. He spends his spare time outdoors and enjoys many of the activities that Colorado has to offer such as skiing, biking, kayaking, and climbing.