SCI Co-Founder Dan Crowley recalls development of first end block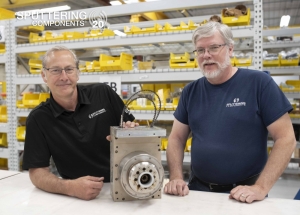 As part of our 20th anniversary celebration, we pulled the first Sputtering Components prototype end block out of storage and asked co-founder Dan Crowley (left) to reminisce about how he developed it back in 2001.
What motivated you to design your own end block?
As the lead cathode maintenance technician at a glass manufacturer, I saw the potential of rotary cathodes and wanted to take the existing technology further. I had seen other companies' attempts at making rotary cathodes work, trying to address the issues they had, and I thought I had better ideas and wanted to prove them out. My friend Barry Nudelman of Process Materials had also heard from his sputtering target customers about their problems with existing cathodes, and he realized there was a void in the market. So, because Barry could provide financial support and had an established sales network, together we founded SCI, and I set out to produce a new design.
Can you tell us a little bit about the process you used?
I drew parts and assemblies at home by hand, and sometimes I would bring these hand drawings to machine shops to make parts from. I also paid some people to take my sketches and make CAD drawings to use, which was a lot better of course for getting the parts made and for making assembly drawings. When I had all the manufactured and commercial items I needed, I would build the end blocks in my basement and garage.
What did you name your design?
The SCI MAG
What made it different than other rotary end blocks?
While other manufactures ran power and cooling water on one end block and target rotation on the other, no one else had been able to put all utilities through one end block. We were the first to do that with our end block design.
What are the benefits to that?
There are some great advantages to the single-ended design, including better reliability, faster target changes, easier maintenance, and lower production cost. At the same time, the design was simplified, which made maintenance much easier and the product more affordable. As we perfected the design, we proved its cost of ownership was very low in comparison with other end block designs that were available.
How did you test your first designs?
I had no ability for testing, so I had to cross my fingers and use my customers' production machines to learn from. The first SCI MAG prototype was run at a glass processing facility located about a 12-hour drive from Owatonna. The prototype operated at 200 kW, which was very high for its day. No one runs that much power even now. But it didn't last long before failure, and I would drive there to find out what happened, make the necessary design changes and then return with updates. Sometimes I would bring Jerry Kelly (right), whom I had worked with previously and who would help me out from time to time. Jerry became SCI's first employee and is still with the company today!
What kind of modifications did you make?
There were a few adjustments to address, but the main issue became failure of the expensive ferrofluid seal. No matter what improvements I made to that seal, it would still fail after about eight months. After struggling with this issue for about three years, we moved in another direction, implementing a new and highly reliable lip seals.
How do today's end block designs reflect on those early models?
While our current end blocks have completely different parts and construction, the one-ended concept was very important to keep. We kept the lip seals and stayed with a belt drive, which I still believe is the best way to go. A lot of time and effort went into building and improving upon that first prototype. It took a while and a lot of teamwork too for them to get accepted in the market, but today we have more than 6000 end blocks reliably operating in all types of coaters all over the world. We are constantly looking to make further improvements and expand our range of products as well.